There are a few options available to you if you receive the notice "Apple ID is not valid or supported." Even still, this notice can be quite annoying, especially if your device was operating normally before you saw it. There could be a few reasons why people are receiving this message in relation to it. What will be important for users, though, is why they are seeing it. I'll explain.
In light of this, I'll discuss the reasons why users could see this warning as well as some suggestions for a fix. Whether or not a user's Apple ID is causing them issues will ultimately determine how frustrating this experience will be for them. It's possible that there are some problems that may only be resolved by contacting Apple Support if you bought the gadget from someone else or from someone who isn't an Apple Authorized Retailer. Learn more by continuing to read.
Why Does it Say Apple ID is Not Valid or Supported?
This error typically indicates that the information you have entered is wrong. There is some sort of static going on, making it impossible for Apple to recognize the login information for your account, regardless of whether you unintentionally entered the wrong username or password. You may make sure you retrieve the right Apple ID and password by using the iCloud website as one solution to this problem.
The only time an Apple ID is required is the first time a user signs into a device. Your device could occasionally request your Apple ID and password again. This is where problems start to appear if you enter the incorrect Apple ID and password or if you bought the device from someone else but neglected to sign out of their Apple ID. However, there are a few options available to you.
How Do You Fix This Apple ID is Either Not Valid or Not Supported?
Check iCloud
One of the first things you can do is double check your information if you receive an Apple ID that is not valid or supported warning. Although there are several ways to get into iCloud, I believe using the iCloud website will be the quickest approach to checking your personal information.
2 minutes are required.
Your Apple ID and password can be retrieved through the iCloud website.
Go to iCloud.com.

Click Sign-In.

Click Forgot Apple ID or Password.

A new page will pop up. It will ask for your Apple ID. If you need to remember your Apple ID, click look it up found below where you would enter your ID.

Clicking Look it up, you will be asked to enter the first and last name associated with your Apple ID, as well as the email address. Enter this information and continue.
Basically, that is all there is to it. You should be set to go if you can locate your authentic Apple ID. You will be able to reset the password once you have access to your Apple ID once more. You shouldn't have any trouble logging into anything that requires your Apple ID now that you have this knowledge. Check out this guide by Jeff Butts as well, which covers how to locate your Apple IDon on a number of various devices.
Check your Email
You can also try looking for any information about your Apple ID in your email if you're still having trouble locating your legitimate Apple ID. If you've gotten emails from Apple, they can contain details about your account. To test if you can locate your Apple ID in this way, try looking through your email for communications from Apple.
Ask the Original Owner
It's possible that their Apple ID and information are still linked to the account if you purchased an Apple device from a private individual or another third party. You can either ask them for the information so that you can continue with what you need to accomplish, or you can try to sign them out.
Of course, you can think about erasing the gadget if you can't get in touch with the original owner. You can factory reset your iPhone, iPad, or Mac as well, but you'll probably need your Apple ID and password to do so. You can test it to see if it works, but if you bought your device from a third party and an Apple ID is still associated with it, you might want to check out the next option.
Talk to Apple Support
If none of these solutions suit your needs, it might be best to just get in touch with Apple Support. Your issue will be resolved by an Apple Specialist, who will also be able to locate your Apple ID and password. Note that you will need to show verification that you are the device's owner, though. If you purchased the device from someone else, you must give Apple sufficient documentation to establish your ownership of the item.
How Do I Validate my Apple ID?
If you want to verify your Apple ID, you can do so anytime you use your ID to sign in for the first time on a new device. In this process, you must verify your identity using both a password and a six-digit verification code. This code can be obtained in a variety of ways. You will receive a verification code through text or phone calls, or your trusted device will create a code if you are signing into something. After that, you type the code you were given into the box as it is indicated.
Why is My Email Not Supported for Apple ID?
If you're getting a notice that reads "Your email is unsupported," it means that an Apple ID has already been created for that email address. This indicates that the email is connected to another Apple ID in some way; it need not be the main email linked to the Apple ID. If you still wish to use this email address, you must determine whose Apple ID it is linked to and, if possible, deactivate it.
Follow these procedures if you want to unlink an email from an Apple ID:
Navigate to this official Apple ID website.
Enter your Apple ID and password.
Once logged in, click Personal Information.
Scroll down to Reachable At and click it.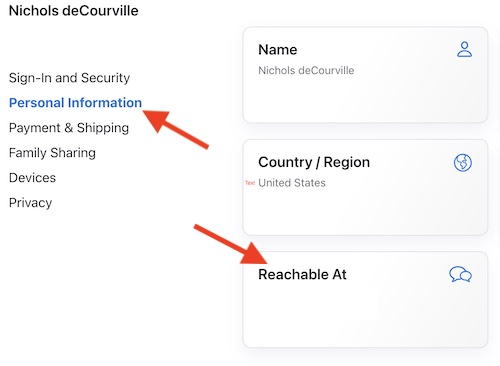 This will pull up emails associated with your Apple ID. You cannot delete your primary email, but you can delete the others by clicking the minus button next to the email and then hitting Remove.
You should also make sure that the email you're trying to use isn't the primary email for an Apple ID if it isn't connected to one. You cannot create a new ID with an email address that is already the primary email for an Apple ID. Using the aforementioned instructions, try changing your password on iCloud to see whether this is the case.
Read More: How to Turn Off the Sound of an iPhone Emergency Alert Without Deleting It?
How to Delete an Apple ID
After all of this, deleting an Apple ID is definitely an option if you decide that's the best course of action. However, there are a few steps you need to follow before asking to have an Apple ID deleted. Make sure to back up any data you store on iCloud first. Additionally, you should review your current subscriptions and use Apple Pay Later to settle any outstanding loan payments. Leaving any accounts connected to that email might also be a smart idea.
When you are finished, simply click Request to deactivate your account after logging in with your Apple ID on this official Apple website. You will then be taken through the steps to delete your Apple ID. You will be issued a special alphanumeric code, which you must keep with you during the procedure. After confirming that the Apple ID belongs to you, Apple will start the process of canceling your account.
Read More: How to Get Past "This App Will Damage Your Computer" Warning on Mac?
What To Do If Apple ID is Not Valid or Supported
There are a few choices available to you if Apple informs you that your Apple ID is not supported or valid in a given situation. The crucial thing to keep in mind is that you probably lack the necessary knowledge. Either your password or your Apple ID username is probably the problem.
As previously stated, getting in touch with Apple Support will probably be your quickest course of action if you are having these problems because you bought the iPhone from someone else. Try one of the aforementioned solutions before calling Apple Support if you just forgot the name of your Apple ID.
At the end of the day, you'll need to be able to utilize your Apple ID correctly for almost everything, so make sure you have it. Of course, we also have other options when it comes to iCloud. For some customers, it may be crucial to know how to modify their iCloud account's email address. Some users may be curious as to what to do if they encounter an error saying "We cannot process your request" in relation to Apple ID. Just because you're experiencing a problem doesn't necessarily mean that a solution is close at hand.