Fortunately, you are not alone if you are unable to disable Switch Control on your iPad or iPhone. In fact, it's probable that before you discovered this setting activated, you had no idea what it was. The company's emphasis on accessibility is one of the best features of Apple products.
It's nice that Cupertino wants to create gadgets that practically anyone can use to their greatest potential. However, if not configured appropriately, some of the features that are meant to aid individuals can actually be a significant hindrance.
On the iPad and iPhone, Switch Control will be examined. For those who are interested, I will describe what Switch Control is and how to activate it. I'll also describe how to disable it and briefly discuss some potential reasons why a user could encounter difficulties doing so. For those who require it, Switch Control is tremendously helpful, however, due to the feature's intricacies, some users may unintentionally enable something they shouldn't. Let's consider our choices.
What is Going on?
Switch Control aids users in navigating their iOS or iPad device. By enabling the iPhone or iPad to highlight items progressively as they appear on the screen, users can utilize either device. For instance, a message explaining that this feature would alter how your device controls and operates will appear when you go to activate this setting. You will then have the choice to change this setting back, but it also demonstrates how your options will change one at a time. If it helps, think of it as a useful adaptation of the program Press Your Luck.
In order for Switch Control to function effectively, additional devices may connect as well. This can be accomplished by using an external Bluetooth switch or even your camera to enable certain body parts to operate the switches. While this function can be beneficial for individuals who require it, if a user does not set up Switch Control properly, issues could potentially develop. These answers are helpful in that situation. Although there are safeguards in place to avoid this, there are still instances online of users having issues after unintentionally setting up Switch Control.
Why Can t I Turn the Switch Control on My iPhone?
Switch Control is probably disabled if you find that it is greyed out or if it looks like you are unable to use it or even enable it because you have another Accessibility feature turned on. Switch Control is probably grayed out since AssistiveTouch is on at the same time that it is. You are unable to have both of these features activated because they serve similar purposes.
One minute is required.
Simply Follow These Instructions to Discover if You Need to Disable Assistive Touch:
On your iPhone, navigate to Settings > Accessibility.

Select Touch.

Assistive Touch should be at the top of the screen. Check to see that it is set to Off.

If it is On, click the AssistiveTouch option and set it to Off.
Once you are certain that AssistiveTouch is off, see whether you can activate Switch Control. Look through your other Accessibility settings to see what else is enabled if Switch Control is still grayed out.
Why Is Switch Control Greyed Out iPad?
The same guidelines that apply to the iPhone will also apply to the iPad. It won't be possible to activate Switch Control if AssitiveTouch is activated. Again, this is due to the fact that Switch Control will accomplish many of the same tasks as AssitiveTouch, but in a different manner.
AssistiveTouch may be turned off similarly to the iPhone by navigating to Settings > Accessibility > Touch > AssistiveTouch and making sure it is turned off. Then, by heading to Settings > Accessibility > Switch Control, you ought to be able to activate Switch Control.
A problem that some users are having is that once they enable Switch Control, they are unable to turn it off. But this is probably because you don't completely understand how to turn it off. Triple-clicking the Home button or the Sleep/Awake button on your device should turn the switch off.
How Do You Exit Switch Control on iPhone?
What happens, though, if your Home button breaks? You might believe that Switch Control cannot be turned off if your Home button is damaged. This isn't fully true, though. Still, there are some choices. You may check to see whether it helps by going to Settings > General > Accessibility > Switch Control. You might have to wait for Switch Control to do another full rotation. Things that you can select will be highlighted in blue. Take note of this.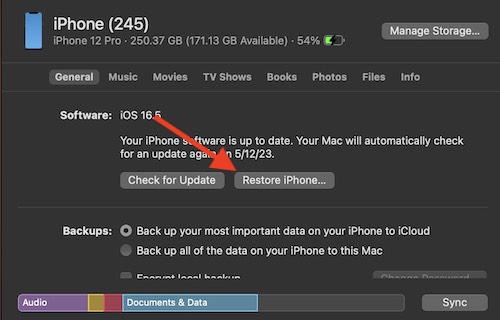 You also have a few options if, for some reason, you can't touch your screen. Online, there are stories of consumers mistakenly enabling Switch Control as well as an option that prevents them from touching their screen. You have a few options if you find yourself in this predicament.
Read More: How to Get Past "This App Will Damage Your Computer" Warning on Mac?
How Do You Exit Switch Control on iPhone?
You might need to restore your iPhone to a prior backup if this doesn't work for you. Since Finder and iTunes will both have a mostly similar appearance, you can quickly locate the Restoreoptions under the General tab. Most likely, when you put in your device, it will be one of the first things you notice.
On the internet, several sources advise disabling this setting with iTunes Finder. Switch Control is not one of the options provided, despite the fact that you can discover certain Accessibility options when you scroll down in the General category.
I should point out that since I'm using the most recent version of macOS Catalina (number 13.3.1 at the time of writing), older versions of iTunes might already contain the bug. Although I was unable to make this work, there are reports of users being able to ask Siri to turn off the Switch Control. You might luck out more, but I wouldn't bank on it.
How Do I Turn Off the Switch Control on My iPad?
Any of the aforementioned methods ought to work with iPad. The Sleep/Wake button or Home button can be triple-clicked to turn off Switch Control. The setting is also accessible from Settings > Accessibility > Switch Control. Unfortunately, the extent of the disableable features ends here. If neither of these options works for you, just like with iPhone, aRestorebefore you enabled the setting is probably your best bet.
Read More: Tips for Maintaining a Fully Charged iPhone Battery!
Accessibility and Solutions
As previously indicated, individuals who require it may find this function to be of great assistance, but those who accidentally activate it may have trouble turning it off again. Remember to thoroughly consider each answer offered, though, since there are a number of possibilities that should help you get back on track. The problem that seems to be bothering people the most is apparently when someone unintentionally makes a mistake with the settings of an external device.
Almost never is accessibility a bad thing. The more users who can use a device's functions, the better their experience will be in general. Of fact, occasionally people who don't realize they require these qualities may unintentionally cause trouble. Fortunately, a solution usually follows quickly. But if the problems persist, you might need to know how to reset or restore your iPhone without using iTunes. Users might also want to know how to fix an iPhone screen that is fuzzy. Just keep in mind that a solution is typically not too far away if there is a problem.