When it came to filming photography, 35mm was by far the most widely used format and was utilized by a variety of devices, including inexpensive point-and-shoot cameras and pricy SLRs.
The 35mm equivalent of the focal length of lenses is still frequently given because it was so popular. DSLRs with "full frame" sensors, which are the same size as 35mm stills, were introduced with the shift to digital technology. However, it also introduced more compact digital cameras that might fit in your pocket.
The Sony RX100 series of cameras is a well-known example of this. For them, the 1″ sensor represents the proverbial holy grail. They lost popularity as smartphone cameras dramatically improved, although they did have an impact on smartphones.
The Sony Xperia Pro-I stole the 1″ sensor from its RX100 cousins, but it lacks the optics to fully utilize it (the Pro-I uses just 12MP of the 20MP sensor's total resolution). The so-called 1″ sensors, it should be noted, are actually more like 2/3″ in size rather than 1 inch. This is another relic from vintage cameras, similar to the 35mm thing.
The Sony Xperia Pro-I borrowed a 1″ sensor from the RX100 line of premium point-and-shoot cameras

Anyway, the 200MP ISOCELL HP3 we discussed last week only goes up to 2.24m pixels with 16-in-1 binning, whereas the Pro-I image sensor boasts an amazingly enormous 2.4m pixels. These two sensors are obviously made for two distinct cameras with two distinct uses.
The Pro-I is not the first smartphone with a 1″ sensor, and it won't be the last either; 2023 looks to be the year when this type of sensor becomes standard for flagships.
The Panasonic Lumix Smart Camera CM1 may have been familiar to some of you. There is little doubt that this is a camera phone based on the design of the cover, and it was equipped with excellent brand-name gear, including a 20MP 1″ sensor behind an f/2.8 Leica lens and a "Venus engine" that could capture 1080p videos at 30 frames per second (and 4K at 15fps).
The Panasonic Lumix Smart Camera CM1 is an early example of a smartphone with a 1″ sensor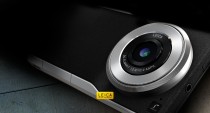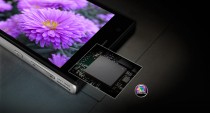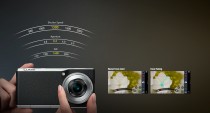 Lumix CM1: Leica lens • Venus video engine • Physical dial for control
With a thickness of 21mm and a weight of 204g, the phone was large (okay now, a lot for 2014). The custom camera software for the CM1 allowed full manual controls and ran Android 4.4.
The silver ring surrounding the lens was actually a dial that could be used to adjust the camera's settings, which was one pretty cool feature. The Lumix CM1 cost a staggering $1,000, which was considered expensive yet not terrible for such a specialized piece of equipment at the time.
Let's travel back in time even further. The Nokia 808 PureView, a phone with such cutting-edge technology that it seemed like it was from the future, has been discussed extensively.
Also Read: Best Disposable Cameras You Should Pick in 2022!
No other phone could really compete with it when it first came out in 2012 thanks to its enormous 1/1.2″ sensor. The 1/3.2″ Sony IMX145 (8MP) sensor from the Galaxy S III from the same year is seen next to the enormous Toshiba HES9, which dwarfed modern smartphone sensors.
The massive 1/1.2″ sensor (Toshiba HES9) of the Nokia 808 PureView
Even by today's standards, the PureView sensor had 1.4 m pixels that were quite huge and there was 41 MP worth of them. As we covered last week, it wasn't until 2018 that a smartphone outperformed it in the resolution game.
And it was precisely this high resolution that gave the Nokia 808 a futuristic vibe. The supersampling technique employed created remarkable per-pixel quality and enabled lossless digital zoom, with photographs defaulting to 8MP. Modern cell phones follow a very similar strategy, albeit with some significant variations.
By the way, we tested the Nokia 808 PureView last year in case you're curious how it stacks up against a contemporary smartphone.
The Samsung ISOCELL GN2 was bigger than even the 808's sensor with a 1/1.12″ optical format (at 50MP, that makes for 1.4m pixels), and we compared it to the Xiaomi Mi 11 Ultra, the smartphone with the largest camera sensor of its time.
The Xiaomi Mi 11 Ultra packed a huge 1/1.12″ sensor, surpassing the 808 PureView (in more ways than one)
Here, we want to briefly veer off course and discuss pixels. It's common to see information like the aperture, sensor, and pixel sizes given when discussing digital cameras. However, not all pixels are created equal.
Although the sensor on the 808 PureView was incredibly large and had a high resolution, the technology was antiquated. As a Front-Side Illuminated (FSI) sensor, the photodiodes are obstructed by the sensor's electronics. Nokia's subsequent 41MP smartphone, the Lumia 1020, which debuted the year after, had a smaller (1/1.5″) Back-Side Illumination (BSI) sensor.
Front-side illumination, aka FSI vs. Back-side illumination, aka BSI (image credit)
And that's not all. The term "ISOCELL" refers to the physical partitions that separate particular pixels, hence minimizing crosstalk. Samsung continued to advance the technology and highlights numerous more benefits (e.g. bigger full-well capacity, which measures how many photons a pixel can collect before hitting its maximum).
Also Read: How to Use Portrait Mode Effects on The iPhone Camera: Step by Step Guide to Use Portrait Mode
The transition from BSI to ISOCELL and the continued evolution of ISOCELL
The PureCel Plus technology from OmniVision, for instance, is similar to Samsung's design and is available:
By separating pixels from one another, OmniVision is also attempting to improve pixels. By separating pixels from one another, OmniVision is also attempting to improve pixels.
By separating pixels from one another, OmniVision is also attempting to improve pixels.
Other innovations include Sony's stacked sensor architecture, which divides the photodiodes and the transistors reading them into two different layers as opposed to placing them side by side thus increasing the photodiodes' surface area.
Sony is developing a stacked CMOS sensor design
All of this serves to demonstrate that pixel size isn't the most important indicator of image quality. In fact, it's because of smart designs like these that sensor manufacturers have been able to reduce the size of their pixels to as tiny as 0.56 mm (interesting fact: the 5.5 million transistors, 150MHz Pentium Pro from 1995 was manufactured on a 0.5 mm node).
The current state of the art for huge smartphone sensors: the 1″ Sony IMX989 used in the Xiaomi 12S Ultra
However, the Sharp Aquos R6 was another phone that could use the IMX989 before the 12S Ultra. Funny enough, Leica, who co-developed the camera with Sharp, had their logo all over the Aquos.
It thus shares that characteristic with Xiaomi. Many firsts in the mobile sector may be attributed to Sharp, but due to the company's relatively small market share in smartphones, those ground-breaking devices frequently go unnoticed.
The Sharp Aquos R6 was the first with the IMX989 and its camera was co-developed with Leica as well
There are rumors that several smartphone manufacturers are developing 1″ flagships, notably one with medium resolution and big pixels. Numerous variants with 200MP cameras and lower pixels will also be available. We eagerly anticipate how the conflict between the two mindsets will play out.
For More Information Visit Our Site: https://www.techllog.com/