Some users may get a [App] can damage your machine warning on their Mac when downloading programs from the internet. There is typically a solid justification for this caution, given everything on the internet. There are numerous reasons why a user might still want to download the app, though. However, the user must ultimately use their best judgment. It is possible to ignore this warning and still install the application. Let's look at it.
In light of the available information, I'll explain what the Damage Your Computer warning implies and go through some things people should know about it. Along with discussing another warning prompt, I'll also examine a number of ways to access and install an app while it displays this warning. Users should think carefully about why they need the software and where they obtained it because this error message can be quite significant.
How Do You Stop Mac From Saying Will Damage Your Computer?
How can you get Mac to quit warning that it will harm your computer? Downloading random programs from the internet is the simplest way to get around this warning. The easiest approach to keep malware off of your Mac is to only download apps from the Apple App Store. Sadly, it is probably easier said than done. There are many reliable, worthwhile, and time-saving programs that are not offered in the App Store.
When attempting to install an app from a source other than the App Store, keep in mind that you can see several message types. The one that mentions unnamed devs is the one we're concentrating on today. Both of the cautions concern installing third-party apps, but if your Mac is warning you that the app might harm your computer, you should probably pay attention.
A competent antivirus program or malware-busting program will probably be of great assistance. Therefore, if you want to proceed, I'll teach you how to get around this malware alert, but make sure you do so very carefully.
How Do I Bypass Malware Warning on Mac?
You are now aware of the error message warning that the specified application "will damage your computer." It ought to be put in the trash. Or it will make a similar statement. Next, the query will present you with two choices: Move to the trash, or cancel. Although it might appear that this is your sole choice, you have the option of ignoring this warning entirely.
One minute is required.
Try the following if you want to install any apps on your Mac computer:
Right-Click or Control-Click on the Application in Finder.

Choose Get Info.

Check the box that says Bypass Malware or Override Malware Protection. You may need to enter your password.

Select Open Anyways from the dialogue box.
It should be noted that some users advise changing the file extensions. the app, following these instructions, and then changing the file extensions back to what they were before attempting to install the app.
Install the App Through Terminal
Additionally, some people claim that you may turn off Gatekeeper on your Mac using a Terminal command. Your device's gatekeeper is what keeps an eye on your apps. Even though not everyone appears to agree, you can still give it a shot and see how you do.
Open Terminal.
Type the following command in the Terminal: xattr -r -d com.apple.quarantine /path/to/app/
Now, delete the /path/to/app/ and replace it with the path of your download.
To have the program choose the route for you, you can drag the application to the Terminal. Just make sure the path to the app section is deleted. Keep in mind that you can completely disable Gatekeeper using the command listed below.
You will have a new option in System Settings under Privacy and Security if you utilize this. You will have the choice of anywhere in your Allowed Apps area; I go into more detail about this below. Personally, unless you are really certain of what you are doing, I wouldn't advise this.
You can also try the trick below if neither of them worked for you.
How to Allow Mac to Install Apps from Unidentified Developers?
Now, there's a reason I wanted to bring this up. When attempting to install an app that was downloaded from a location other than the App Store, a user may often see one of two different warnings. We've already discussed the Damage Your Computer warning, but certain apps may also display a pop-up alerting user that the creator is unknown. Although this warning is not as dire as the other one, it nevertheless merits discussion.
This just signifies that the program isn't registered with Apple in the case of an app from an unnamed developer. This warning doesn't necessarily mean that the program is dangerous; it only means that Apple hasn't yet recognized it. Even before the Developer ID system was implemented, several apps were created.
These kinds of apps can be opened most easily by performing a right-click or control-click on them, followed by the option to "Open." In this manner, there is no need to permanently disable the prompt. But if you choose, you may easily turn off the prompt. Although it is an option for individuals who need or desire it, I wouldn't entirely advise doing it.
Simply follow these instructions to eliminate the Unidentified Developers warning prompt:
From your Mac, go to System Preferences.
Choose Security and Privacy.
Click on the Lock and then enter your password.
Under the Allow Apps Download, choose App Store and identified developers.
Newer versions of macOS may not have the lock, so keep that in mind.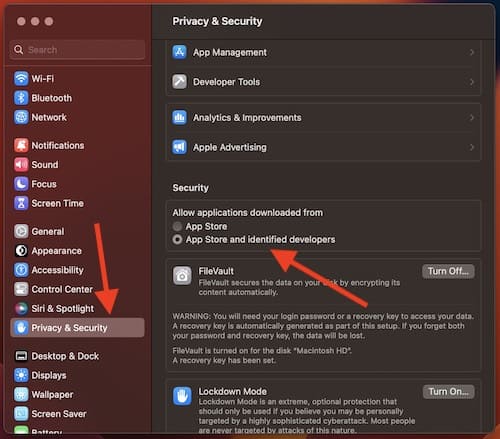 Don t Damage Your Computer: Will Resetting My Mac Remove Malware?
Maybe, but probably not. It's not a good idea to play games with malware when dealing with it. Malware can vary in its level of threat. On the other hand, some may be significantly worse than others. Take CoinMiner, a type of malware threat that utilizes a victim's computer to mine cryptocurrency, as an example. Back in February 2022, it was revealed that a particularly malicious variant of CoinMiner was circulating, masking itself as Adobe files to remain undetected.
Most likely, rebooting your device won't be enough to get rid of CoinMiner. However, executing a factory reset will get rid of viruses and spyware, but it will cost you money. First of all, there is still no assurance that the malware will be entirely eliminated by doing this.
If the malware manages to access your recovery sector or firmware, that will be a serious problem. Additionally, executing a factory reset takes time, and unless you're meticulous with backups, you're probably going to lose some data.
Read More: How to Turn Off the Sound of an iPhone Emergency Alert Without Deleting It?
I Think My MacBook Has a Virus
Should you refrain from downloading apps from the internet in light of this? No. But it does imply that you ought to approach it wisely. You should probably avoid a program that your Mac cautions you about if you don't completely trust it.
Your Mac's warning that the program might be harmful and the warning you get about an unknown developer are still two different things. So have that in mind. Even while it always acts in your best interests, there have been some apps and applications that your device was incorrect about. Ensure you act morally.
As was previously noted, you may want to think about using an antivirus or malware-busting program if you intend to install programs that are not from the official App Store. I like CleanMyMacX by MacPaw personally. They provide a free version, and I believe it performs admirably.
Why Does Mac My Mac Keep Saying Will Damage Your Computer?
Your Mac is merely attempting to act in your best interests. Use caution when downloading anything from the internet, in the end. Even if your Mac won't always be able to identify what is or isn't malware, you should still pay attention to its recommendations if you have any doubts.
You can probably install the app with little to no worries if it is one that you have used frequently or if you believe the app's evaluations. Keep in mind that when you disregard your Mac's warnings, it becomes a matter of trust between you and the app's creator. Say I didn't warn you, please.
We definitely have further tips and solutions for your Mac if you're looking for them. For instance, we have the means to boot macOS from USB if things start to get a little hairy. If you need to solve a frozen MacBook Pro, we also have fixed. User is ultimately free to utilize their device in any way they choose.
This old internet of ours is full of interesting things. Of course, there is a lot of awful stuff online as well. As previously noted, exercise caution when downloading anything from a source other than the App Store. Download information only from trustworthy sources.